Brian and Roxanne Conrad just welcomed their first child in June – and immediately decided to do what they could to support other kids! They tabled outside of their local Office Depot so that donors were able to double their impact; Office Depot pledged a 5% giveback in credits to the local school district with every purchase of school supplies.
Tabling outside of the Office Depot was an opportunity for Brian and Roxanne to talk with their neighbors and fellow citizens of Naperville, both about their business 360° Painting and how they are giving back to their local schools through Kids-Lift.
To Brian and Roxanne, giving back to the Indian Prairie School District is a natural extension of their work as owners of their local business. Especially as new parents, they recognize the importance of supporting all kids, so that everyone has the opportunity to succeed.
In the Indian Prairie School District No. 204, there are over 200 students who are currently suffering from homelessness, and 17% of the total students are classified as low-income. The community support of these students through the donation of supplies is a way to help ensure that they have the same academic opportunities as kids from wealthier families. Closing the "achievement gap," the consistent difference in academic performance between high- and low-income students, can only be achieved through community collaboration. 360° Painting of Naperville and Kids-Lift are proud to step up and pledge their intention to actively work towards a more equitable academic system.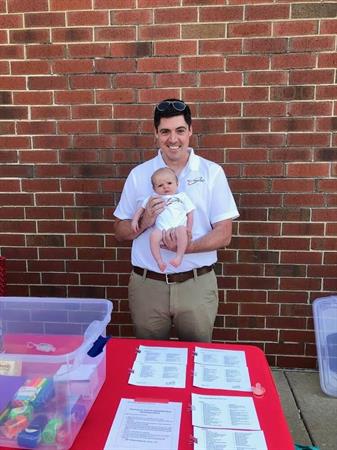 This Saturday spent tabling outside of The Office Depot was made brighter by their littlest member of the 360° Painting team who also came out to support this great cause. Their two-month-old daughter wore a 360° Painting onesie to cheer on her parents.
Reflecting upon this experience, Roxanne was particularly grateful for the opportunity to give back to her community. "Being part of Kids-Lift is a wonderful experience!" said Roxanne. "For some families school supplies are going to be last on the list of budgeted expenses, and it can be tough for a child showing up for the first day of school without the required supplies. Knowing that 75 kids were able to start off the year with a backpack and school supplies, that they may not have otherwise had access to, and being able give them a great start to their school year is truly rewarding."

360° Painting of Naperville participated in the pilot Kids-Lift back-to-school-drive program, a program that we hope to expand to more cities and communities next year. To stay up-to-date with the ways that Kids-Lift keeps expanding and giving, make sure to sign up for our newsletter here and to follow us on Facebook and Instagram.